Update: The custom portrait background & camera position bug has been fixed.
But there is a new bug; After death Lina respwans with her default skin & icon sometimes.
Arcana Skin Bug.png
---
This Ingame-picture is from the store, wich includes the new Arcana Portrait/Background:
And this is when I play her Ingame:
Note: Her custom Portrait-background has has no longer the blue fiery effect.
The camera position is bugged as well, so you cannot see her burning hair properly.
If unequip the Arcana item, her skin won't change back to the default one. (restart is necessary)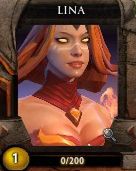 And if you swap hero to Lina, her icon wont change to the custom one.
Even if you die and respawn, it will still remain the default icon.
When Rubick steals her customized Dragon Slave & uses it, it will still remain the default particles and icon.
Pudges customized Hook&Chain changes when rubick uses it. (so why shouldn't the Dragon Slave change as well?)