Hello all,
I'm new to these parts, so please go easy if you think this suggestion is on par with filling the Hindenburg with Hydrogen instead of Helium.
After reading the news today that one of those other MOBA games, whose name we dare not speak, have pulled a blinder and introduced a Samuel L Jackson announcer (which coincidentally was suggested here only a few months ago), I felt the need to examine the store and see what expressive and intimidating announcers we have. Now whilst Axe is without a doubt the manliest of men, and GLaDOS is as passive aggressive you can get, I feel we lack a real motivator.
Thus, my suggestion for a new announcer:
R Lee Ermey in his Master Gunnery Sergeant persona.
For those of you who are unaware of who he is, here is his legendary introduction to the world via Full Metal Jacket (Caution; swearing involved):
Here's an example of him without swearing, just incase someone says they'd never do it due to foul language (cut to 1m44s as I don't know how to embed video at a specific time):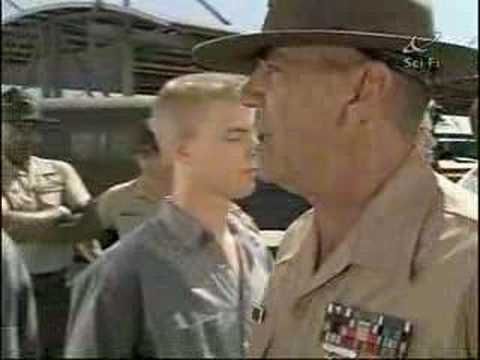 The Gunnery Sergeant is someone who I think would really encourage you to play better, with his caressing words of advice causing your eardrums to burst you might actually take notice of that tower that's being attacked, or really take heed of the fact that someone on the opposite team is dominating and therefore very likely to ruin your day. Who better for someone new to this game to listen to? After all as a Gunnery Sergeant he's the perfect trainer, and I'm sure you'll take notice of what he says when your ears start bleeding! Gunny is also possessed with that innate ability to make even a dressing down a hilarious event, which would make the many games I lose that little bit more enjoyable.
On a serious note R Lee Ermey has previous form for voice work e.g. Toy Story, Fallout, Family Guy, The Simpsons etc. so there's no reason why he wouldn't be good at it.
So what are your thoughts?
As an aside now that we have GLaDOS, Cave Johnson might be the next best thing to the Gunny Sergeant in my opinion.