Update:
I have now discovered how to enable 2D isometric perspective! It goes by the name of "orthographic camera" and you can enable it using console commands with sv_cheats 1. Still won't be able to use it for spectating live games but I'm as happy as can be. Feel free to disregard this thread, I guess!
Currently, shadows and fog of war do not render correctly, among some other things I've noticed (for example, the heat waves of Doom's scorched earth ability don't show up).
To enable Orthographic Camera:
1. Load up a replay or custom game
2. In console, type:
sv_cheats 1
camortho 1
fogui (simply check the fog override box)
fow_client_visibility 1 (turns off fog of war)
c_orthoheight <some number> (1000 is a good starting point)
c_orthowidth <some number> (2000 is a good starting point)
There are probably some other steps I'm forgetting. I'll update this thread as I remember details.
--------------------------------------------------------------------------------------------------------------------------------
(I hope this is a good place to put this!)
Dire's Base seen in faux-isometric view; notice how all towers are the same size
What is 2D isometric mode?
It's a camera mode where all objects stand out equally. It's a perspective that allows every single object in a scene to be examined equally, regardless of where the camera is centered. It's a mode that means every single pixel in your area of view is giving you equally important information.
Think of Starcraft 1. Think of Age of Empires 1 and 2. Think of Total Annihilation! Think of basically any RTS from the 90s. For a more contemporary example, think of Bastion. Think of how every single unit and building in these games looks exactly the same, regardless of where it is on your screen. Of course the units look different when they themselves are facing different directions, but their size and the angle from which they are seen remains perfectly static, and as a result, all units are
instantly recognizable
.
AOE2 uses isometric view; notice how every farm is the exact same size
Most people would say that the 2D isometric view feels like a 'bird's-eye view', where the camera is really high up, which is correct in a sense. This is because true 2D isometric essentially places the camera infinitely far away (compared to 3D perspective, in which the camera is a fixed and finite height above the ground). To an observer viewing from a point infinitely far away, all objects basically seem to be the same size (if the observer can zoom infinitely far in)!
In 3D perspective, moving your field of view warps the entire image constantly, which means your brain has to work harder to understand what is seen. You can obviously get used to this, but it does make visual image processing unnecessarily inefficient. For instance, a unit moving from one side of your screen to the other is undergoing a constant warping effect, as the angle from which you're seeing the unit changes. This makes it harder to focus on the details of that unit. It's this warping effect that can cause problems for some players prone to getting feelings of motion sickness. 2D isometric view eliminates this problem!
The image of the hero changes and 'warps' depending on where in your field of view it happens to be
In DOTA2, the camera has a fixed height regardless of the height of the terrain over which it is situated. Due to the 3D perspective, this means that units appear bigger when on higher ground (or when thrust into the air by a Torrent or a Ravage), and they appear much smaller when in the river, for instance. 2D isometric view would stop this from happening. Units would maintain a static size regardless of their altitude.
Current 3D view: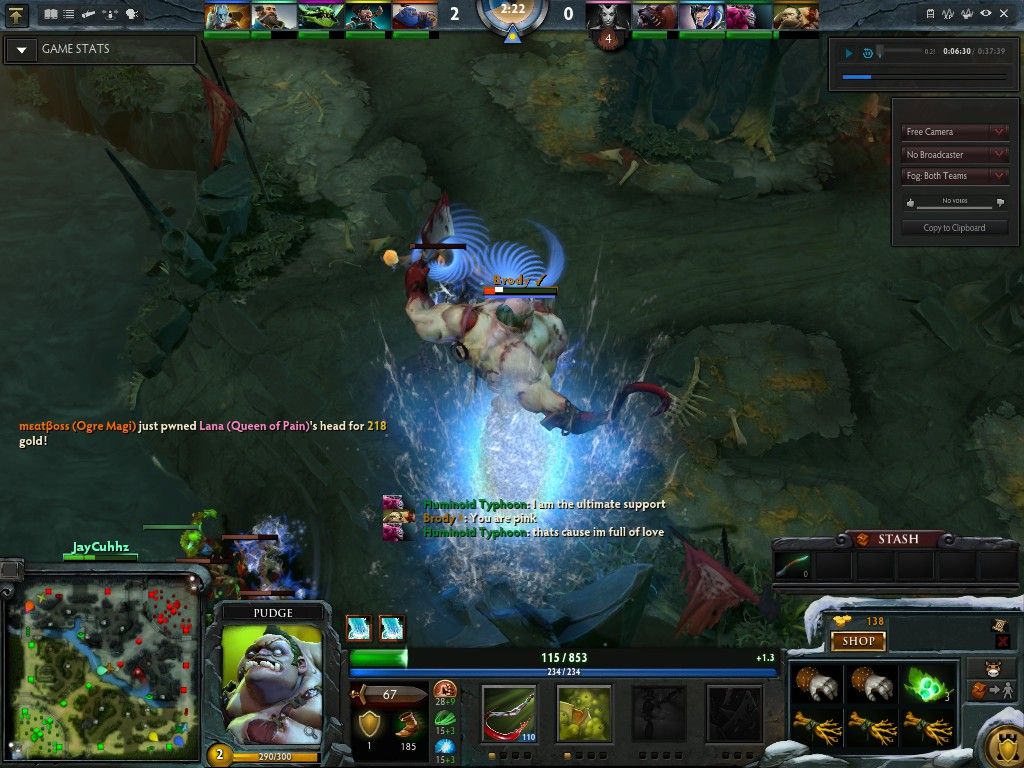 Faux-2D view:
Notice how Pudge no longer appears to be bigger, despite being higher in the air
Another thing worth noting is that in your standard 3D perspective, things in the center of your screen are the most defined and easily recognizable, but the further towards the sides of your screen you look, the more warped (and less useful/accurate) the visual information becomes. Not so in 2D isometric.
2D isometric also makes it easier to track unit movement, and navigate (because the environment is fixed; as you move your camera the trees do not shift and obscure places you want to click). At any given time, a unit occupies ONE unique position visually. You never have to move the camera to get a "better view" of what's going on in front of you.
In addition, the texture work on the ground would even more effectively convey a sense of depth and relief of the ground's surface. Said textures would be less prone to "breaking" and looking flat due to being seen from a shallow angle.
From a more subjective viewpoint, I feel that 2D perspective gives heroes and units a more "iconic" feeling, due to them being unchanging, solid and 'reliable'. This also means that the details of custom content would stand out more easily due to the viewing angle and size of objects being fixed and stable; you can become more familiar with the static, unchanging visual silhouette of each hero, and even minor changes to said silhouette will be more noticeable.
But what about the
benefits
of 3D perspective? Obviously there are benefits to having a full-fledged 3D view of your environment. This is why I simply suggest that it be implemented as an option in video settings that can be toggled on and off, so there's no need to sacrifice any benefits of 3D perspective! It must be noted that Valve does in fact use 3D perspective very well, and their use of it does lend the game a certain distinctive style. 2D isometric would simply give another perspective, equally as valid.
Finally; I feel it's worth emphasizing this point: every piece of art in the game would stand out equally at all times in 2D isometric mode! In my opinion Valve employs some of the best artists in the gaming industry, and I feel that anything that would further promote and highlight the details of their work would be worth implementing! Not to mention the work of all the very prolific and creative members of the workshop community ...
And while I'm talking about how much I respect and admire the artwork in this game: could I please request a 'disable HUD' feature? Wouldn't it be nice?
Thanks for reading! Here are a few more images to give you an idea of what things would be like, more or less: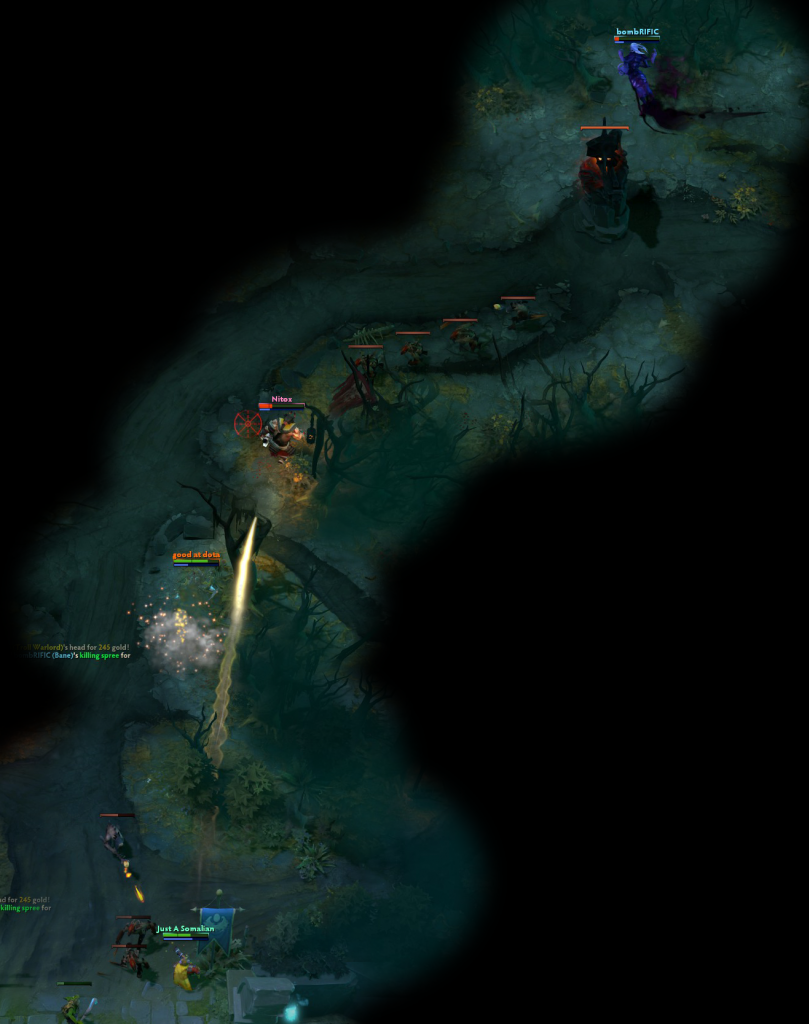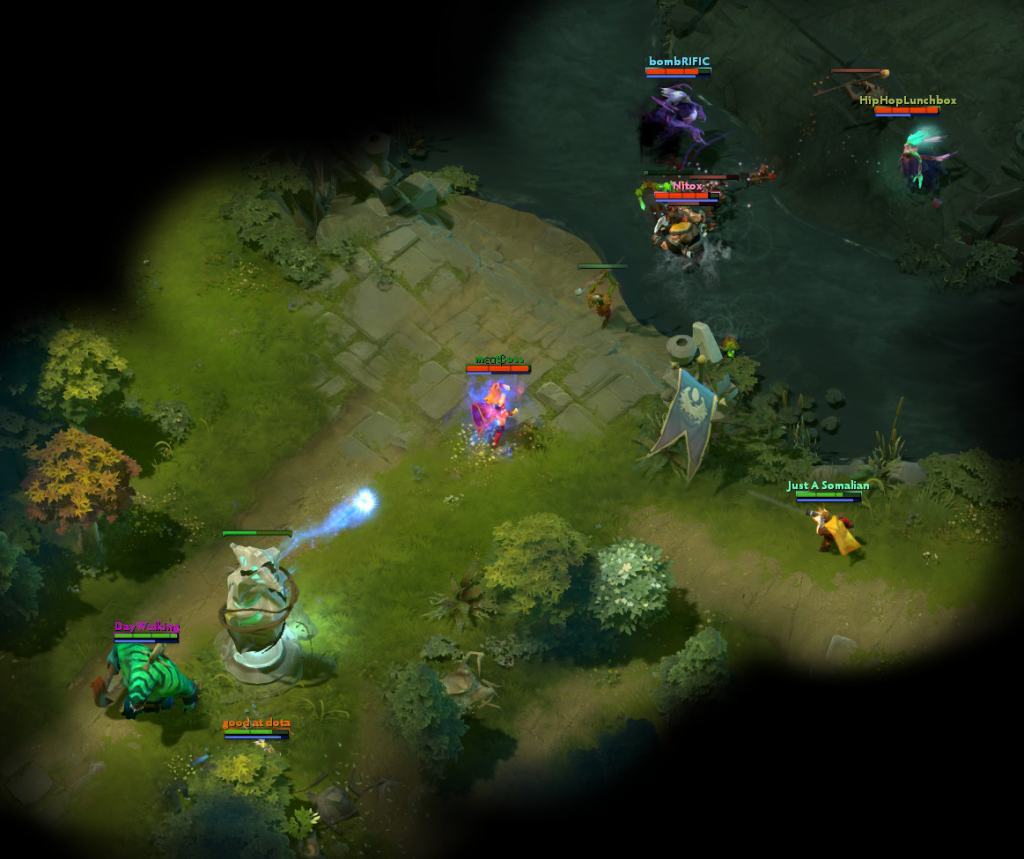 PS. It also occurs to me to mention that League of Legends, of all games, did in fact used to have this very option. It went by the name "fast terrain" and could be toggled on and off. Only they didn't realize just how awesome it really was, nor how to use it properly, and decided to remove it.